Features & Benefits
Heavy duty, durable construction

Multiple configurations

Lightweight options available

Up to 118in (3000mm) diameter
Tractors
Low-cost, low noise
Clutch free
High pressure
18in (457mm) diameter
Truflo's SAP20 one-piece molded fan is a popular fan choice for many Agricultural tractor cooling applications. Highly efficient and suited to production machinery in hotter climates, Truflo's SAP20 is a single piece molded fan which also helps meet noise and efficiency targets without using a viscous clutch. The compact clutch free design makes the SAP20 the first choice in many compact tractor applications, where high flow and pressure is needed to deliver reliable cooling across various radiator configurations.
Wheel Loader
One-piece molded fan
Lightweight
Compact
When space in the engine compartment is at a premium, Truflo's compact one-piece molded fans are a natural choice for agricultural vehicle OEMs. Molded from the toughest glass filled PA6.6 nylon, the fans deliver a consistent performance, with minimal blade deflection, even in high temperatures and under constant load.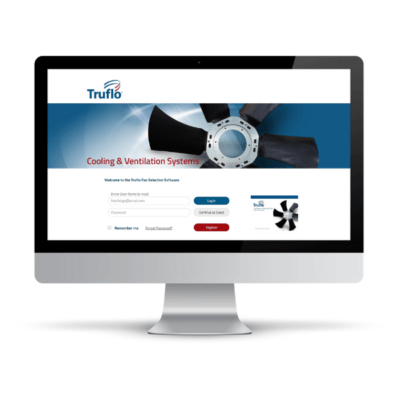 Truflo Fan Selection Software
Online & accessible from any device
No applications to download or update
Provides 3D CAD Models
Exports to Excel, PDF or KULI formats
Save your personalized fan selections
2D Drawing downloads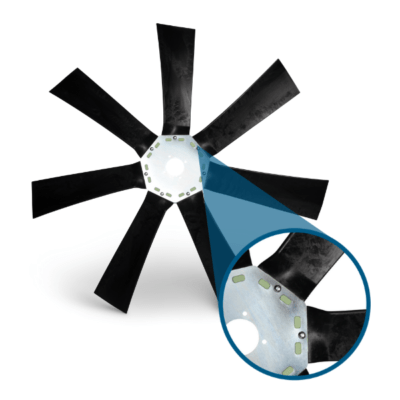 Blade & Fan Technologies
Our range of blade profiles, materials and construction options provides a customized approach to create a solution that is perfect for your unique application.
Custom Testing & Design
Providing our customers opportunities to design and test specific fans through tip profiling, various mounting options, wind tunnel testing and even competitor benchmarking. Our on-site fan testing and analysis ensures that Truflo's fan test data is accurate and repeatable. Our wind tunnel can accommodate some of the largest fans, up to 84in (2100mm).