Features and Benefits
Wide range of durable fan designs

Made for arduous applications

Suitable for direct engine drive,

viscous clutch or hydraulic motor
Knuckleboom Loader
SET40 9 blade
One-Piece Molded
Medium Pressure
A cost effective, large diameter one-piece plastic molded fan, designed to work on a range of forestry machinery. The fan can be trimmed down to suit different size radiators installed across a range of machines and engines. Available in fan diameters up to 39in (1000mm).
Tracked Feller Buncher
Metal twin-spider fan
8 ejector blades
Truflo's popular twin spider design provides ultimate reliability in harsh environments. A riveted assembly utilizing 8 unique ejector profile blades, the fan is able to catch and safely dispatch any flying debris, protecting vital engine components from damage and maintaining machine uptime.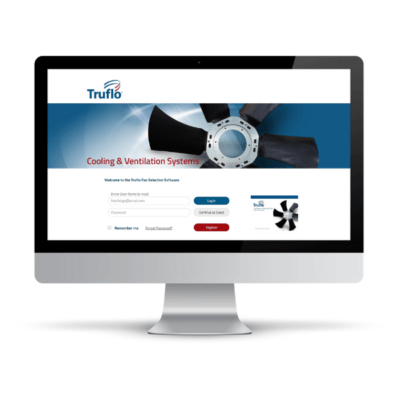 Truflo Fan Selection Software
Online & accessible from any device
No applications to download or update
Provides 3D CAD Models
Exports to Excel, PDF or KULI formats
Save your personalized fan selections
2D Drawing downloads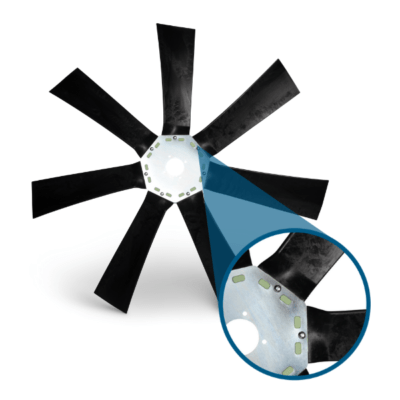 Blade & Fan Technologies
Our range of blade profiles, materials and construction options provides a customized approach to create a solution that is perfect for your unique application.
Custom Testing & Design
Providing our customers opportunities to design and test specific fans through tip profiling, various mounting options, wind tunnel testing and even competitor benchmarking. Our on-site fan testing and analysis ensures that Truflo's fan test data is accurate and repeatable. Our wind tunnel can accommodate some of the largest fans, up to 84in (2100mm).