Features & Benefits
Light weight and low cost

Low noise designs

Available starting at 12in (300mm) diameter

Suitable for engine driven application with or without clutch

Compatible with hydraulic drive applications
Recycling Center, Reversible
Low cost one-piece molded design
Reversible flow for radiator cleaning cycles
Hydraulic drive
Recycling paper, textiles, and other similar media causes cooling radiators to be ineffective due to buildup of debris. Truflo fans can be driven in reverse rotation using a hydraulic drive, delivering a simple, maintenance-free, low-cost radiator cleaning cycle which prevents vehicle overheating. The additional benefit is that the radiator can be placed anywhere within the engine bay, allowing designers freedom to optimize their vehicle design, improve driver visibility and create safer vehicles.
Dockside Cargo Handling
Corrosion Resistance
Hybrid design
43in (1100mm) diameter 6 blades
The Shipping ports are harsh corrosive environment, subject to salt spray and all weathers. Truflo's Hybrid fan design withstands 1000 hours salt spray testing, reducing maintenance, improving vehicle uptime, and eliminating costly fan failure.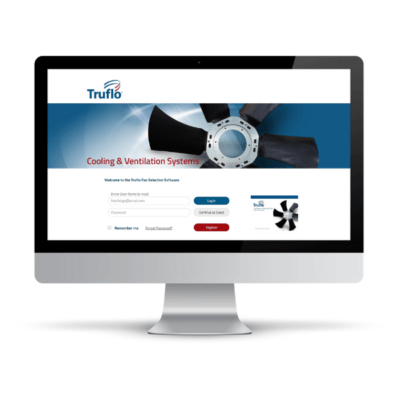 Truflo Fan Selection Software
Online & accessible from any device
No applications to download or update
Provides 3D CAD Models
Exports to Excel, PDF or KULI formats
Save your personalized fan selections
2D Drawing downloads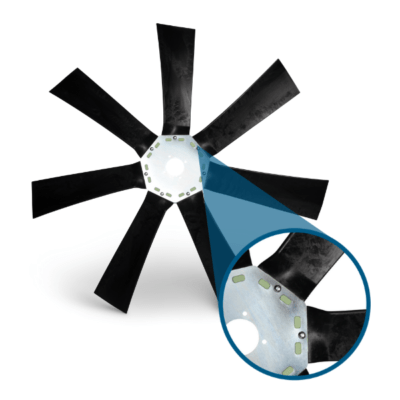 Blade & Fan Technologies
Our range of blade profiles, materials and construction options provides a customized approach to create a solution that is perfect for your unique application.
Custom Testing & Design
Providing our customers opportunities to design and test specific fans through tip profiling, various mounting options, wind tunnel testing and even competitor benchmarking. Our on-site fan testing and analysis ensures that Truflo's fan test data is accurate and repeatable. Our wind tunnel can accommodate some of the largest fans, up to 84in (2100mm).