Features & Benefits
Heavy duty, durable construction

Multiple configurations

Lightweight options available

Up to 118in (3000mm) diameter
Rigid Hauler
Segmented design for cost reduction and a consistent performance
11 blades configured for high efficiency, low noise, and reduced strain
84in (3000mm) diameter
Unique ejector blade profile, protecting engine components and reducing vehicle downtime
For a challenging industry demanding the toughest components and ultimate reliability, Truflo's durable segmented metal fans are available in very large diameters up to 106in (2692mm) with 6-15 blades configured and fixed at the ideal angle to meet precise performance requirements. Designed for high efficiency to reduce fuel consumption, Truflo fans are supplied to every leading manufacturer of Rigid Haulers and Articulated Dumpers.
Heavy Excavator
5 blades to reduce fan weight and price
31.5in (800mm) diameter optimized to radiator dimensions
Lightweight aluminum blades
High efficiency for reduced parasitic load
Designed for strength and durability Truflo segmented metal fans provide essential cooling on Heavy Duty Mining Excavators with engine power up to 3360kW (4500HP). Fan designs and materials can be configured for the specific application, adding strength, reducing weight, or increasing efficiency.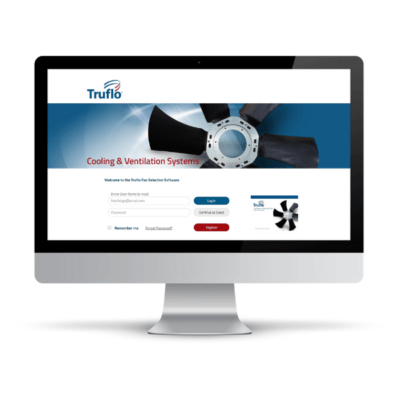 Truflo Fan Selection Software
Online & accessible from any device
No applications to download or update
Provides 3D CAD Models
Exports to Excel, PDF or KULI formats
Save your personalized fan selections
2D Drawing downloads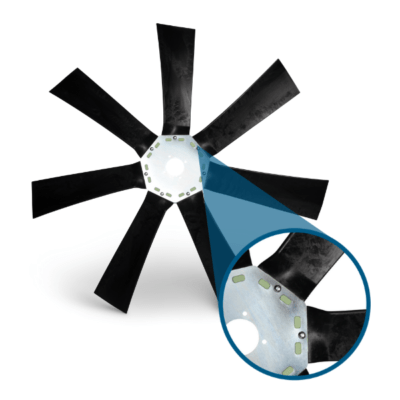 Blade & Fan Technologies
Our range of blade profiles, materials and construction options provides a customized approach to create a solution that is perfect for your unique application.
Custom Testing & Design
Providing our customers opportunities to design and test specific fans through tip profiling, various mounting options, wind tunnel testing and even competitor benchmarking. Our on-site fan testing and analysis ensures that Truflo's fan test data is accurate and repeatable. Our wind tunnel can accommodate some of the largest fans, up to 84in (2100mm).